Nick Carver, Owner of America's Swimming Pool Company of Panama City Awarded Franchisee of the Year
Nationally Recognized Pool Service Franchise Honors Owner of Panama City Location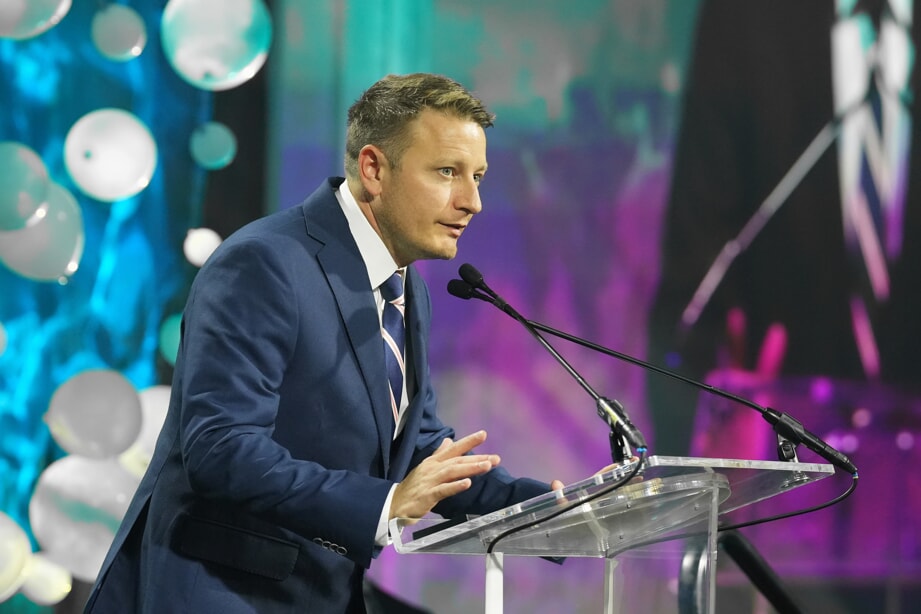 ASP – America's Swimming Pool Company of Panama City was recently recognized at their organization's annual franchise owners meeting and Authority Brands Convention. Nick Carver, owner and operator of the ASP Panama City franchise location, accepted this honor amongst thousands of like-minded franchise business owners within the Authority Brands network, his franchise support team, and leading pool industry vendors from across the nation. The event hosted inspiring keynote speakers along with motivational topics and industry information - leaving attendees with vital insights and innovative strategies that are sure to positively impact their businesses moving forward! The 3-day convention ended with Carver receiving special recognition during the gala dinner and awards presentation for Franchisee of the Year.

"Nick Carver has continuously proven his success as a franchise owner by his commitment to excellence in everything he does," said Jimmie Meece, Brand President of America's Swimming Pool Company. "His passion for the company and employees is evident, and they have done a great job building a strong foundation that reflects and reiterates our core values. His professional achievements are truly inspiring!"

The Franchisee of the Year award is a prestigious award given to exemplary franchise owners. Each year, one America's Swimming Pool Company owner is recognized and awarded for possessing the traits that make a successful business owner: hardworking, commitment, attentiveness to customers, and devotion not only to their brand but also those they employ. Simply put, these remarkable entrepreneurs are those who best represent the brand's core values and mission while simultaneously growing their business and showing their dedication to pool owners and customers in their local community.

"We are honored to have received the Franchisee of the Year award for America's Swimming Pool Company," said Carver. "We couldn't have achieved this success without the support of our incredible staff, who go above and beyond every single day to support our customers and grow our business."

Carver, a Tennessee native, moved to Panama City, Florida, six years ago to start a new journey as a business owner. Since the launch of his America's Swimming Pool Company franchise, Carver quickly began making waves. The franchisor has also awarded Carver for Best New Franchise Start (2018) and continues to be recognized as a top sales award winner year after year. In addition to Carver's company success, he enjoys playing an active role in the overall success of the franchise organization. He is a member of the Franchise Advisory Council (FAC) which provides the opportunity for Carver to share ideas and resources to help other America's Swimming Pool Company franchise owners continue to grow their businesses.

For more information on professional pool service in the Panama City area, email pcboffice@asppoolco.com or call (850) 441-2951. Find them on Facebook @asppanamacity.

# # #

About ASP

ASP - America's Swimming Pool Company is the largest swimming pool cleaning, repair, and renovation franchise system in the nation. Founded in 2002 by Stewart C. Vernon, the company is based on the belief that by providing a higher quality pool service at a reasonable price, the brand would raise the industry standards for pool service. In 2005, ASP began franchising and now covers hundreds of cities in 23 states across the nation. For more information on ASP's swimming pool franchise opportunities, visit ASPfranchising.com. For more information on America's Swimming Pool Company, visit ASPPoolco.com or find us on Facebook @asppoolco.

About Authority Brands

Authority Brands is the premier residential services franchising platform providing services from the property line to the roof line. Authority Brands' companies include 12 leading home service franchisors: America's Swimming Pool Company, Benjamin Franklin Plumbing, The Cleaning Authority, Color World Painting, DoodyCalls, Homewatch CareGivers, Mister Sparky, Monster Tree Service, Mosquito Squad, One Hour Heating and Air Conditioning, STOP Restoration and Woofie's. Together, these brands provide home services through approximately 860 franchise owners across North America. Authority Brands, which is headquartered in Columbia, Maryland, is dedicated to supporting individual franchise owner growth with a full suite of marketing, technology, and operational support, allowing them to focus on providing exceptional service to homeowners. Please visit www.theauthoritybrands.com for more information.