Stuck on gift ideas this year? The pool professionals at America's Swimming Pool Company have listed their top six gift ideas for the water lover. You'll even want to put a big red bow on these must-haves for your own swimming pool.
1. Zodiac MX8 Elite
The MX8 Elite is the first suction pool cleaner with cyclonic scrubbing brushes for thorough cleaning of stuck-on debris from pool surfaces.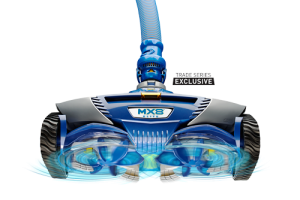 2. Swimline Giant LED Light Up Swan
Swimline's most popular item can now light up your night! Turn your pool into a party. Multiple changing colors make this everyone's favorite.
3. Jandy Pro Series AquaLink RS
Jandy Pro Series AquaLink RS systems enable total control of your backyard experience. AquaLink RS systems are fully integratable with home automation systems, and feature our patented seasonal adjust technology, which can modify schedules throughout the year, for substantial additional energy savings. AquaLink RS delivers the ultimate pool/spa automation experience.
4. Hayward EcoStar SVRS
EcoStar SVRS is the industry's most energy efficient pump with an integrated Safety Vacuum Release System (SVRS) that helps prevent suction entrapment.
Most efficient pump at any speed. Its super-efficient permanent magnet, totally enclosed fan cooled (TEFC) motor and industry leading hydraulic design can save you up to 90% on your energy costs
Integrated Safety Vacuum Release System (SVRS) helps prevent suction entrapment without additional devices, plumbing, or wiring
Service mode allows your service company to clean pools quicker
Integrated controller is programmable with a self-contained 24-hour clock and up to 8 custom speed and timer functions that allow EcoStar® to manage flow throughout the day
May be eligible for rebate from your local power utility
User interface can be repositioned or even removed and mounted on the wall for easier access
5. Pentair Intellibrite LED light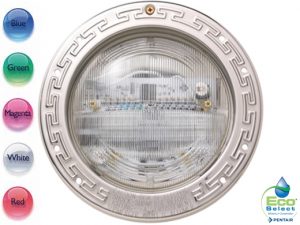 IntelliBrite 5g automated color-changing pool and spa lights feature LED technology: the wave of the future in energy efficiency, lifetime value, quality of light, and controllability. With IntelliBrite 5g lights, combinations of individual colored LEDs are mixed and matched to achieve a vibrant spectrum of colors. These combinations are power sequenced to illuminate and cycle through colors at varying speeds, and in different sequences of color. Combined with a custom reflector and unique lens design, the IntelliBrite 5g lights offers super efficiency while being the brightest, yet most energy efficient underwater LED light available.
6. ASP Gift Certificate for Pool Maintenance
Make them smile when you give the gift of worry-free pool maintenance. Talk to the pool professionals at America's Swimming Pool Company for gift certificate options on swimming pool service, maintenance, or repairs.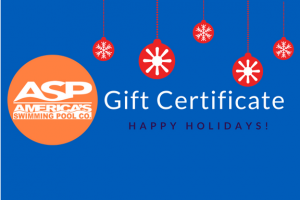 Visit ASPPoolCo.com/Locations to find your America's Swimming Pool Company location and to speak with a pool professional about these products.