Colon and Pam Fulk are originally from North Carolina.  After spending many years in the rail industry and relocating their family several times they returned to North Carolina where Colon started a railroad consulting business.  Chad and Paige Fulk own and operate Rescom Cabinets in Macon, GA.  They have two boys and are co-owners with Chad's parents of ASP of Iredell County and ASP of Charlotte.
How did you learn about ASP?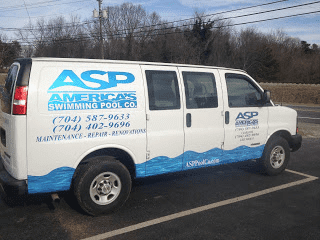 Be on the lookout for one of our service vehicles!
Chad Fulk learned about ASP through his friendship with Tom Swift, President and COO of ASP - America's Swimming Pool Company.  Chad and his father had been discussing branching out and buying or starting another company.  They researched the opportunity of buying into the ASP franchise system with Tom Swift and Stewart Vernon, Founder and CEO. 
My father and I believed there was a great opportunity and need to start a swimming pool business in the Iredell County area of North Carolina.  We opened ASP of Iredell in April 2011.  We knew that eventually we wanted to expand into the Charlotte area.  We got word through our supply distributor that Fabulous Fountains and Pools of Charlotte was interested in selling their company and that is what started the process of purchasing an existing company and converting it to ASP - America's Swimming Pool Company in Charlotte, NC.
What was appealing to you about joining a franchise system? Why did you choose an opportunity with ASP - America's Swimming Pool Company?
ASP Franchising, Inc. provides a proven business plan that has been consistently successful with all of their existing franchises.  They have had not one franchise fail since their inception in 2005. They have people in place to help guide you, lead you and point you in the right direction of where you should be going and how things should be done.  This is a tremendous tool to have which allows us to provide a quality service and products to our customers.
What challenges have you overcome to get where you are now?
The biggest challenge is that ASP of Charlotte is a conversion from an existing company so we want to get the new name and new services out to everyone in the community.
ASP - America's Swimming Pool Company is implementing a new software program that will assist in streamlining the operation and allow for ASP of Charlotte to go paperless.  This challenge has allowed for there to be more organization and structure within ASP of Charlotte and we are already getting very positive feedback from the customers.  They know when we are coming to service their swimming pools and they are informed via emails when we have left their homes and what services were completed.
Do you see any parallels between your previous work and now?
Colon, Pam, Chad and Paige are successful business owners.  ASP utilizes the same programs for billing and bookkeeping which has allowed for a smooth transition with the addition of ASP of Charlotte.  We have been able to implement strategies that we have learned through ASP with our other company as well.
What are your expansion or development plans?
ASP of Charlotte plans to expand on the services they provide to their current customers and those in the Charlotte area.  We will continue with swimming pool maintenance and cleaning programs, but are also able to complete any needed swimming pool equipment repairs.  We also offer full swimming pool renovations from new vinyl liners, re-plastering and renovating the swimming pool concrete deck, coping and tile.  Our plan for future expansion is to open a new and improved retail store in a more customer populated area of Charlotte.  We hope the store will be able to build on the new services we are now providing in Charlotte.
About ASP - America's Swimming Pool Company
ASP - America's Swimming Pool Company, the Nation's most respected swimming pool maintenance and repair franchise, was established in 2001 by Stewart Vernon of Macon, Georgia. The company was built on the belief that providing the highest-quality pool maintenance with competitive pricing and a high level of dependability will attract customers. Since 2005, ASP has expanded into 113 territories throughout the country, servicing over 200 cities and thirteen states across the country. At this point, the company manages over 80 million gallons of water per week and renovates or remodels more than 250 pools each year. For information, please visit www.ASPpoolco.com