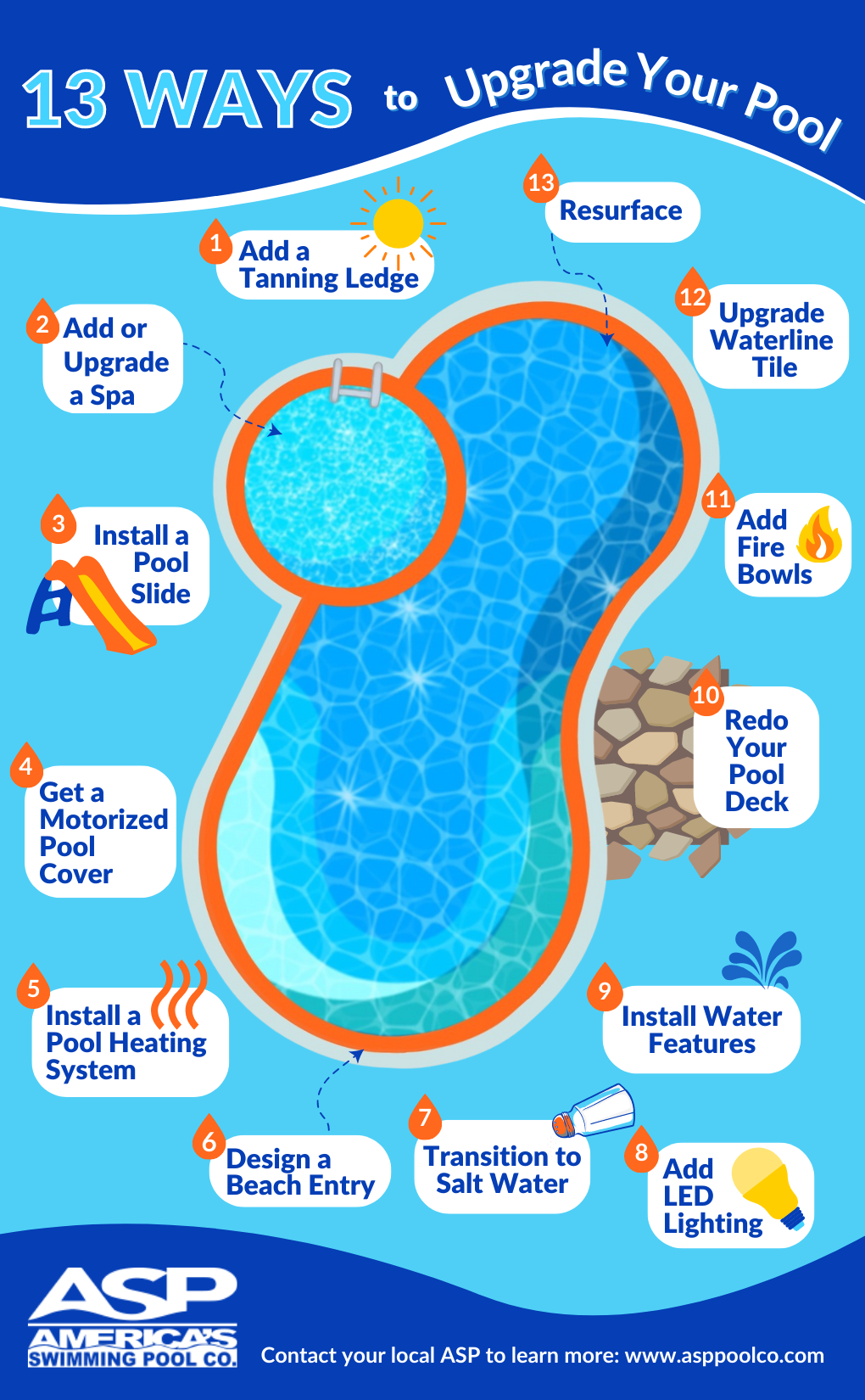 A swimming pool of any shape, size, or design is great for providing hours of entertainment for the whole family. As you enjoy your pool over the years, you may find yourself itching to make some changes. Whether these changes include necessary repairs or additions to create your own backyard oasis, you will find that the time and effort spent remodeling your pool was worth it in the end.
Read on for some of our favorite upgrades and how you can make your pool dreams a reality.
Add Tanning Ledge
Tanning ledges are both practical and enjoyable for the whole family. Sitting on one end of your pool, these ledges are installed between 3-18 inches below the water's surface and can be custom designed to fit your pool.
Reasons to Install a Tanning Ledge
Also called "sun shelves", these ledges provide an area for kids to play in, an easy entry into the pool, and an expansive sitting area to keep cool, socialize, tan, and read in.
Common Sizes for a Tanning Ledge
Depending on your needs, a tanning ledge can be made in a variety of sizes. A tanning ledge can be anywhere from five to eight feet wide, giving you just enough space for a chair or two while not invading all of your swimming space.
Add or Upgrade a Spa
Spas are a very popular project for pool owners. Whether adding a completely new spa system or simply upgrading an existing one, your friends will soon be flocking to your home to enjoy a relaxing afternoon in the pool.
Spillover Spa
Spillover spas bring your hot tub and pool closer together. In this design, a hot tub is built above the pool with an opening that allows excess water to spill over into the pool below. This creates a beautiful waterfall effect and cohesive design.
Infinity Spa
If you are looking to blur the lines between your hot tub and pool even further, an infinity spa is the way to go! This hot tub sits inside of your pool and has a nearly invisible ledge, creating a seamless transition between the hot and cold water.
Re-Tiling the Spillway Design
If you have already been enjoying your spa for some time, it may be in need of an upgrade. Re-tiling your spillway and other tiled components of your pool will keep the area looking and functioning great for years to come.
Install a Pool Slide
Who doesn't love slipping and sliding into the cool water on a hot day? Slides are an awesome addition that will add endless fun to your pool days. But before you begin installing, you must keep safety in mind.
How Much Space Is Needed?
It is important to keep everyone safe when playing in and enjoying the pool. If you are hoping to install a slide, keep in mind that you will need plenty of space in order to do so. Small, straight slides can require up to 8 feet of space, while larger slides need up to 15 feet. Without the proper surrounding space, it can be awkward to reach the ladder or walk around the perimeter of your pool.
How Deep Should Water Be?
When installing a slide, you must also consider water depth. The water you are sliding into must be at least 36 inches deep. Each slide will come with its own specifications, so be sure to do your research and seek the help of an expert before installation begins.
Get a Motorized Pool Cover
Pool covers help keep your pool clean and safe. However, manually moving a cover can be time-consuming and tiring over time. If you are looking for an easy upgrade that will improve your pool care routine, consider installing a motorized cover.
Benefits of an Automatic Pool Cover
To start, an automatic pool cover will keep you from having to do all the heavy lifting day in and day out. Additionally, a motorized pool cover will:
Prevent water evaporation.
Reduce chemical loss, resulting in less chemical usage.
Work with your heater to keep the pool warm, resulting in lower energy costs.
Keep debris out of the pool, allowing your filter not to overwork itself.
Prevent pets, toddlers, and pests from falling into the water.
Install a Pool Heating System
Even on some of the hottest days of the summer, you may not feel inclined to dip your toes into an icy pool. A pool heater will drastically improve your pool life!
Benefits of Pool Heating
With a heater installed, your whole family is sure to feel more comfortable and enjoy pool days. Additionally, a heater allows you to keep the swimming season going even longer! You will find yourself wanting to take a dip on a cool spring day or a late August afternoon.
A pool is a large investment, so it makes sense that you want to use it as much as possible! With a heater, you will end up jumping in the water more often, getting the most out of your investment.
Design a Beach Entry
Missing the beach? Why not bring the beach to your pool?! A beach entry, also known as a zero-entry or walk-in pool, eliminates stairs and offers a gradual, sloping entry into the water. Available in a wide variety of materials, these slopes are built evenly with the pool deck and offer a smoother and gentler transition into deeper water.
Pool owners enjoy beach entries for many reasons, including their accessibility. Family members, young and old, are able to access the pool, enjoying the shallow entryway and ample space to sit and splash in, much like a tanning ledge.
Beach entries are custom-designed for your pool and can be a big project to take on. However, they are a great option for those looking to make a big change in their backyard pool area design.
Transition to Saltwater
Did you know that you can have a swimming pool that is entirely filled with saltwater? This kind of pool gives you all the benefits of saltwater minus the salty taste and smell. Many pool owners are discovering this and choosing to make the switch, and it is not as difficult as you might think.
Advantages of a Saltwater Pool
So, why are saltwater pools becoming popular? To begin, the switch comes with very low startup costs, with the highest ticket item being a salt chlorine generator. After this expense, you will purchase the affordable pool salt and get shaking!
After the initial costs, saltwater pool owners will enjoy a low-maintenance pool. This is partly due to the fact that the salt provides all the chlorine that the pool needs. This combination of salt and chlorine will last in the pool much longer than in a traditional pool, meaning you will not need to replenish chemicals as often.
Finally, saltwater is much softer than the water in a traditional pool. This makes it easier on your skin, clothes, and hair.
Upgrade to LED Pool Lighting
Pool lights keep the swimming party going all night long. They are also an essential safety feature. Changing your current pool lights to LEDs is a seemingly small upgrade, but it can make all the difference.
Old halogen and incandescent lights are a thing of the past, as LED lights have much more to offer. First, they produce brighter light that gives your pool a fuller glow. The best part? They do this while using less energy than incandescent and halogen lights. Their lower wattage allows them to consume less energy and produce less heat, saving you money and offering a safer-to-the-touch solution.
One of the most attractive things about LED lights is their ability to change color. This adds something really special to your pool, giving you the chance to light up your pool with your favorite colors or change them out on holidays to show your spirit.
In addition to all of this, they are also incredibly long-lasting. You can expect most LED lights to last between 15-20 years in your pool.
Install Water Features
In addition to LED lighting, water features are a real showstopper when it comes to creating your perfect pool oasis. With many options, countless combinations, and the help of an expert team, you can create almost anything you would like.
Fountains & Bubblers
Get bubbly with a fountain or bubblers installation! These water features are relatively easy to install and incorporate into your existing pool and are a great way to add something special to your backyard. Fountains and bubblers help the aeration of your water, cool the pool down, and increase water circulation. They also create a relaxing environment, are pretty to look at, and are fun to play in.
Jets & Laminars
Nothing says relaxation like pool jets and laminars. These features keep water flowing, provide relaxing, steady white noise, and can be integrated with LED lights.
Standard pool jets will give you a stronger, bubblier stream of water, while a laminar jet gives a smoother, gentler, and unbroken stream.
Cascading Features
If you have a "go big or go home" attitude about your upcoming pool remodel, go really big with a cascading feature like a waterfall! Your friends and family are sure to love the fun that these water fixtures bring. Much like jets and fountains, they are great for keeping the water flowing and can add to the relaxing atmosphere you are looking for.
Keep in mind, however, that the bigger the cascade, the louder the rush of water will be. Take into consideration your noise-level tolerance and be mindful of your family members and neighbors.
Spouting Statues
Another fun, unique, and dramatic water feature is a spouting statue. The opportunities here are endless! From fish and frogs to larger statues of humans and lions, you can choose the perfect companions to line your poolside with and add some water flow all around.
Redo Your Pool Deck
Looking for a remodel outside of the water? Your pool deck may be in need of some TLC.
Your pool deck should be a space where you can relax, read, tan, and spend time with loved ones. It is also important that the deck be a safe place for you and your guests to walk around and enter the pool from.
If your deck is cracked, uneven, or otherwise damaged, we highly recommend redoing it for your safety. Here are a few ways you can improve or upgrade your pool deck.
Natural Stone Decking
A stone deck will give your pool the luxurious, natural look you are going for. With many options available, you can create a design to match the exact aesthetic you would like, while creating a beautiful deck for everyone to enjoy.
Natural stone is a more eco-friendly option compared to concrete as it occurs naturally and does not rely on chemicals for its creation. Stone is also easier to maintain thanks to its natural earth tones and the ability to replace a single stone without having to tear up a large section of your deck.
Concrete Pavers
A deck made of concrete pavers is a good option for pool owners looking for an affordable, uniform deck. These pavers are easy to install and can be customized in several ways to fit your needs.
Wood Decking
Wood decking is one of the most beautiful pool deck options out there. In addition to how they can improve the look of your pool area, wooden decks are also durable and can increase your property value.
Add Fire Bowls
Go dramatic with your pool remodel by adding a fiery feature to your pool. These stunning features come in a variety of design options to fit your needs and offer a unique way of lighting your pool. Family and friends alike will be in awe of these fixtures.
Upgrade Waterline Tile
As the name suggests, your waterline tile is the row of tiles that sits at and above the water's surface in your pool. Changing this tile up or doing some simple repairs can significantly improve the look of your pool. Some materials to consider include:
Porcelain. These tiles are often used in pools because they are durable, soft to the touch, and easy to maintain. They are also cost-effective and come in a variety of colors.
Mosaic. A more elegant option for your waterline, mosaic tiles are made into different designs and patterns to elevate your waterline and add some personality to your pool.
Glass. Glass tiles are luxurious, increase the value of your pool, and beautifully reflect the sunlight onto the water's surface.
Resurfacing a Pool
There comes a time in all pools' lives when they need to be resurfaced. If you are not sure whether or not your pool is in need of resurfacing, there are a few things you can look for.
If you notice staining or discoloration around your pool, it could indicate a need for resurfacing. This discoloration comes from years of wear and tear, chemicals, algae, and debris. A new surface will look and function better for years to come.
Another reason you may need to resurface your pool is if materials are coming off. This could mean missing tiles or exposed gunite in high-traffic areas around the pool.
If your pool is cracked, leaking, or has other visible damage, you will likely need to resurface soon in order to get things under control and avoid larger, more expensive issues.
Finally, you may decide to resurface simply because you are ready for something new! A new tile design or aggregate refresh could be just the thing you need.
Unpolished Aggregate
Unpolished, or exposed aggregate gives the surface of your pool a textured feel. It is made of pebbles and comes in many shapes and colors, allowing you to choose the perfect design that is long-lasting and durable.
Polished Aggregate
Polished aggregate is aggregate that has been sanded down to create a smoother surface while maintaining that beautiful pebbly look. This is a good option for those looking for a stony look without the rougher texture.
Tile
While tiling a pool comes at a higher cost, it is a durable and beautiful option that pool owners love. With many colors and shapes to choose from, you can create a design you love and give your pool the refreshed look it needs.
Call the Pool Remodeling Experts at ASP
Whether you are looking to take on one or two small projects, or are ready to remodel your whole pool area, the experts at ASP are here to help! Our team will guide you through the entire process in order to get you the results you are looking for. Contact us today to get started!