What You Need to Know
Important tips to include in your storm preparation plan this hurricane season. The professionals at ASP - America's Swimming Pool Company want to remind you how to better protect your swimming pool from the storm.
What Pool Owners Need to Know When a Catastrophe Strikes
Before the storm:
Add additional chlorine (or shock) to your swimming pool. This will help prepare your pool for the abundance of rain that will cause a negative impact on your pool's water chemistry.
Do not drain your swimming pool before the storm! It may seem like the correct thing to do but 80% of your pool's weight is water, so the abundance of rain paired with an empty pool can cause the water table (underground) to rise. This will result in a concrete pool to rise and pop out from the ground.
Turn off all electrical components of your swimming pool equipment. For example, be sure to turn off all the breakers supplying power to your pump, lights, heater, etc which will help stop power surges from damaging equipment. Plus, this may protect the equipment if your property is flooded.
Do not put a cover on your swimming pool. This may cause severe damage or rip off the cover to your pool.
Be sure to put away anything that is not secured to the deck. Store all poolside furniture, floats, etc. in a safe space. High winds can potentially turn those loose items into flying projectiles.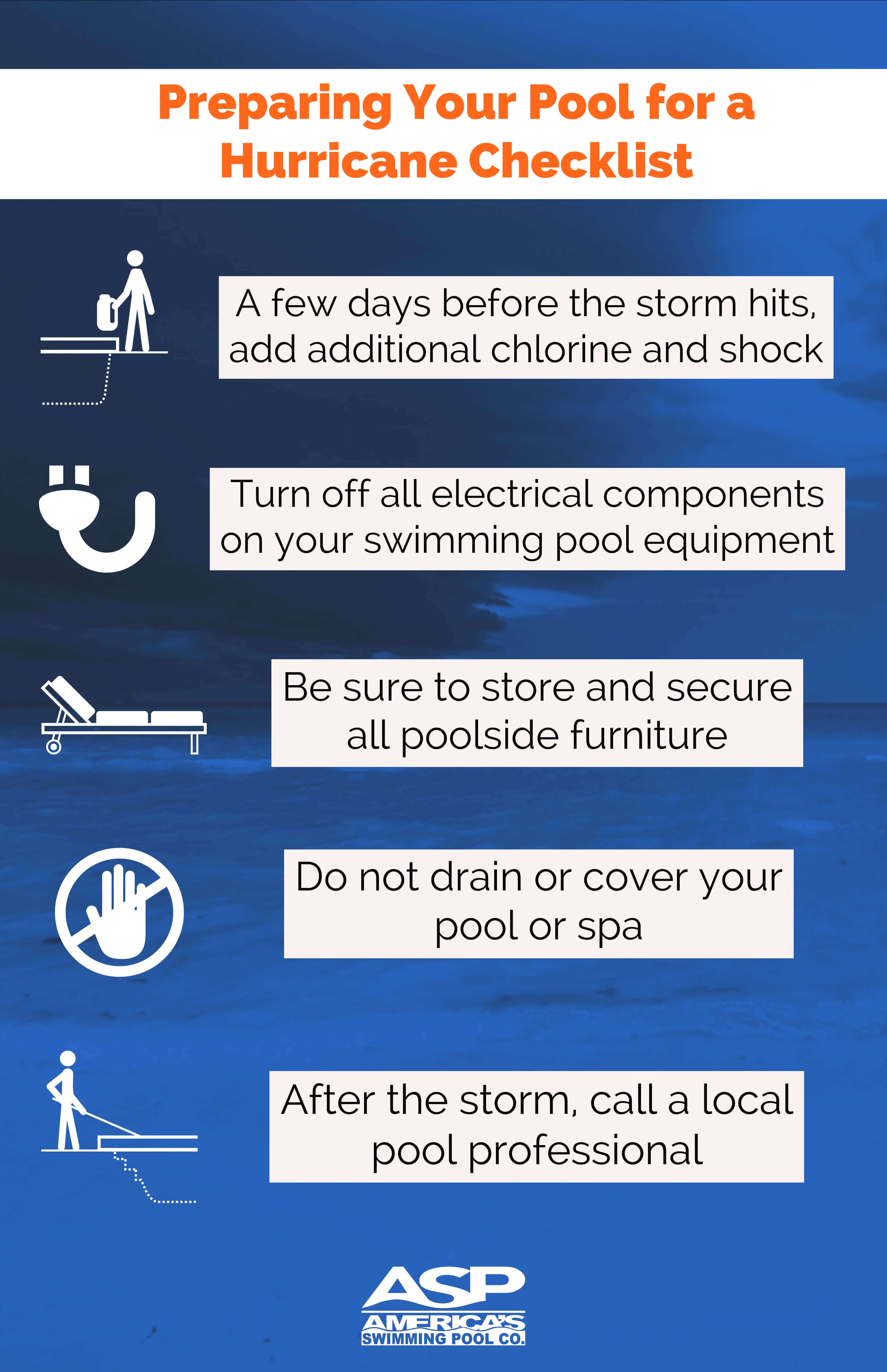 After the storm:
Make sure all electrical components of your swimming pool equipment are completely dry before they are powered up again. One way to know that equipment is dry and ready to be turned on is if the pad it is sitting on is dry. Also, do not turn equipment breakers to the "on" position until after your home's power supply has been turned back on.
Only drain the excess water from your swimming pool down to mid tile line (or mid skimmer) so that your skimmer can help clean the surface of the pool.
If the power is still off and the equipment is not operational you can add liquid chlorine to the pool which will help eliminate or prevent algae from growing. However, since the equipment is not operational it is important to use a pole to circulate the water so that the chlorine added will not settle in one spot in the pool. Also, you can put a floating chlorinator in the water which will add chlorine as it floats on the water's surface.
Netting out the debris in the pool is important as is brushing the pool walls and floor which again will help circulate the water if the power is still out.
OR
Contact your local ASP - America's Swimming Pool Company! The pool experts at ASP can clean out the debris in a timely manner to help avoid pool staining. They will also test your water chemistry and add the necessary chemicals to balance out the pool. Find & connect with your local ASP by visiting asppoolco.com/locations.
Additional Resources:
During the event of a hurricane, there are many safety measures to consider. Use the following resources to learn how to better prepare and keep your family safe from the storm.
About ASP - America's Swimming Pool Company
Since 2002, ASP - America's Swimming Pool Company has been dedicated to serving pool owners throughout the United States. Our professionals are experienced in maintenance, equipment diagnostics and repair, and pool renovation. Whether you're looking for an ongoing maintenance program, a routine repair or a pool makeover, ASP is your best choice. Learn more about what we do, visit our locator page to find the ASP professional team nearest you, contact us today.
Blog updated Oct. 09, 2018