With summertime finally here and swimming pools seeing more use, a specific concern has been vocalized recently. Is your swimming pool safe? With kids out of school and venturing outside around the swimming pool, it is a great idea to make sure that they are protected. As we all know, swimming pools are one of the most likely places for young children to drown. Most homes have a fenced in backyard to protect you from someone coming and using your swimming pool uninvited.
Did you know that there are also safety fences that can be installed around the swimming pool deck? These safety fences are most commonly known as baby fences. A swimming pool baby fence is well worth the investment and is easily installed by a swimming pool professional. This fencing will give you the peace of mind that your family is always protected. These fences are constructed from a high-strength mesh and either aluminum or resin poles that are anchored to the swimming pool deck.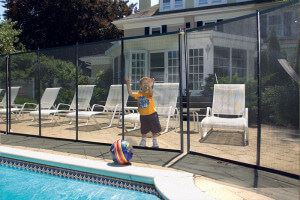 One of the pros to a swimming pool safety fence is that it can easily be disassembled and removed during a large pool party or family gathering by the swimming pool. This is a very attractive option compared to other fencing options out there. The biggest pro is the peace of mind that you will have knowing that everyone is safe around your swimming pool.
Contact your local ASP - America's Swimming Pool Company for more information about safety fences for your swimming pool. You will be glad that you made the call, and even happier once you make the investment.