Nick Carver, Owner/Operator of America's Swimming Pool Company location in Panama City, Florida is honored at the franchise organization's annual event.
PANAMA CITY, Fla. – ASP – ASP - America's Swimming Pool Company announced the winner of the company's award for Best New Franchise Start during the 11th annual ASP Owners Meeting reception held in Savannah, Georgia. Nick Carver, owner of the Panama City franchise, was honored to be the recipient of this prestigious award. The 2018 ASP Owners Meeting was a two-day convention that brought together ASP franchise owners from across the nation, ASP key employees, top vendors in the pool industry, and inspirational keynote speakers. This event was packed with motivational and business-changing information for all who attended.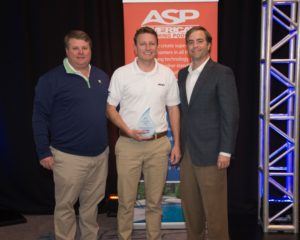 During ASP's annual event, franchise owners were acknowledged and awarded for their significant achievements, and one location was selected as Best New Franchise Start. The Panama City franchise location is one of 17 new ASP locations across the nation that opened their business in 2017. The key requirement needed to determine the ASP location recognized for this special award is based on first-year sales.
"It was a pleasure to award Panama City as Best New Franchise Start," said Stewart Vernon, Founder and CEO of America's Swimming Pool Company. "Nick received recognition because of his determination and ability to show significant growth during his first year in business. We look forward to seeing his continued success as a business owner."
One year ago, Carver took the entrepreneurial leap and moved his family from Tennessee to Florida, to start his journey as a business owner. Before becoming a professional in the pool industry, Carver worked for a computer technology company and has a strong background in sales, marketing, and accounting. His positive outlook on life and dedication to customer service has made him a perfect fit as an ASP business owner.
Carver attributes his success to his business partner, Ryan Eiland, who is also the owner of the ASP locations in Destin and Pensacola, Florida. Eiland opened his first ASP franchise in February 2008, and since then, has grown as a multi-location franchise owner in the Florida panhandle. Eiland has been a tremendous support to Carver and Eiland's expertise as a veteran in the ASP business has helped Carver accomplish his first-year goals.
The early success of ASP Panama City originates from Carver's consistent hard work and commitment to plan for the success of his future. Overall, this upcoming franchise location can identify its success by the relentless pursuit of excellence from the owners, and by the dedicated support system its franchise organization.
For more information about professional pool service in the Panama City area, visit ASP of Panama City or on Facebook @ASPpanamacity.
# # #
About ASP
ASP – ASP - America's Swimming Pool Company is the largest swimming pool cleaning, repair, and renovation franchise system in the nation. Founded in 2002 by Stewart C. Vernon, the company is based on the belief that by providing a higher quality pool service at a reasonable price, the brand would raise the industry standards for pool service. In 2005, ASP began franchising and now covers over 400 cities in 20 states across the nation. For more information on ASP's swimming pool franchise opportunities, visit ASPfranchising.com. For more information on ASP - America's Swimming Pool Company visit ASPPoolco.com or find us on Facebook @asppoolco.