ASP, the nation's leading pool service company, has earned its position for the 6th year to the Inc. 5000 list, a prestigious ranking honoring the nation's fastest-growing private companies in America.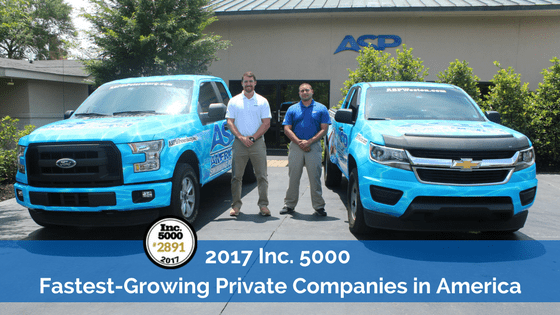 MACON, GA (August 16, 2017) – The Inc. 5000 list represents America's fearless, creative, and innovative entrepreneurs. Today, ASP - America's Swimming Pool Company announced its well-deserved ranking of No. 2891 in Inc. Magazine's 36th annual list of America's Fastest-Growing Private Companies. Tens of thousands of companies apply to this prestigious list, but only a few make the list more than once. This year ASP is in the rankings for the 6th year. Only four percent of companies can say they have made the list six times, and this result is something most businesses could only dream of.
The list represents a unique look at the most successful companies within the American economy's most dynamic segment— its independent small and midsized businesses. Companies such as Microsoft, Dell, Domino's Pizza, Pandora, Timberland, LinkedIn, Yelp, Zillow, and many other well-known names gained their first national exposure as honorees of the Inc. 5000.
"Being named one of Inc. Magazine's fastest growing companies is a testament to the entrepreneurial spirit of our franchise owners," said Stewart Vernon, Founder and CEO of America's Swimming Pool Company. "Our team at ASP will continue to uphold an unparalleled standard of excellence, and we look forward to working alongside our future franchisees for years to come."
The company's success can be recognized by its mission to revolutionize the swimming pool industry through technology, higher standards, knowledge, and a better experience to provide peace of mind to swimming pool owners one market at a time.
"Each of our franchise owners possesses a strong desire to succeed, and seeing the growth in their business is what's truly satisfying," said Vernon. "We are proud to be named the six time honoree to this prestigious list of today's most innovative company builders."
ASP first entered the Inc. 5000 list in 2010 when it was ranked No. 1595. In 2013, ASP came back in the rankings as No. 1737 and has stayed on the Inc. 5000 list for five consecutive years. The company moved up to position No. 2891 from last year's ranking of No. 3354. This year's rankings synopsis for ASP points out the company's 117-percent growth in revenue over a three-year period.
"The Inc. 5000 is the most persuasive evidence I know that the American Dream is still alive," says Inc. President and Editor-In-Chief Eric Schurenberg. "The founders and CEOs of the Inc. 5000 tell us they think determination, risk taking, and vision were the keys to their success, and I believe them."
The 2017 Inc. 5000 list was unveiled online at Inc.com on August 16, 2017. Complete results of the Inc. 5000, including company profiles and an interactive database that can be sorted by industry, region, and other criteria, can be found at www.inc.com/inc5000. To view ASP's profile and see the complete results of the Inc. 5000 list, visit https://www.inc.com/profile/asp-americas-swimming-pool-company.
# # #
About ASP
ASP – Site:ASP - America's Swimming Pool Company is the largest swimming pool cleaning, repair, and renovation franchise system in the nation. Founded in 2002 by Stewart C. Vernon, the company is based on the belief that by providing a higher quality pool service at a reasonable price, the brand would raise the industry standards for pool service. In 2005, ASP began franchising and now covers over 400 cities in 20 states across the nation. For more information on ASP's swimming pool franchise opportunities, click here. For more information on America's Swimming Pool Company, visit our website. Find us on Facebook at @asppoolco.
Methodology
The 2017 Inc. 5000 is ranked according to percentage revenue growth when comparing 2013 to 2016. To qualify, companies must have been founded and generating revenue by March 31, 2013. They had to be U.S.-based, privately held, for profit, and independent—not subsidiaries or divisions of other companies—as of December 31, 2016. (Since then, a number of companies on the list have gone public or been acquired.) The minimum revenue required for 2013 is $100,000; the minimum for 2016 is $2 million. As always, Inc. reserves the right to decline applicants for subjective reasons. Companies on the Inc. 500 are featured in Inc.'s September issue. They represent the top tier of the Inc. 5000, which can be found at http://www.inc.com/inc5000.
About Inc. Media
Founded in 1979 and acquired in 2005 by Mansueto Ventures, Inc. is the only major brand dedicated exclusively to owners and managers of growing private companies, with the aim to deliver real solutions for today's innovative company builders. Winner of the National Magazine Award for General Excellence in both 2014 and 2012. Total monthly audience reach for the brand has grown significantly from 2,000,000 in 2010 to over 18,000,000 today.  For more information, visit www.inc.com.