ASP of Chattanooga is awarded the 2012 Franchise of the Year award in Savannah, GA at the annual Owner's Meeting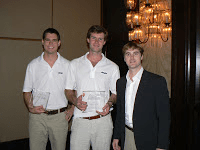 The Franchise of the Year award is a tribute to the best and brightest franchise owner in the system each year, awarded annually at the ASP Owners meeting.   
"ASP of Chattanooga is incredibly deserving of this award for the 2012 year, and should be proud of all they have accomplished" stated Mr. Stewart Vernon, Founder and CEO of America's Swimming Pool Company.  "ASP of Chattanooga's attention to detail, work ethic, drive to be the best, and utilization of the corporate support system are what got them here."
Mr. John Baldschun and Mr. Jesse Pettit launched their franchise in February of 2009, already having secured twelve maintenance customers they would start serving upon completion of the required training, called PoolSchool.   In their first year in business Mr. Baldschun and Mr. Pettit proceeded to reach over $200,000 in gross sales.  This is a first year record that still stands today company-wide.  Since 2009, they have seen tremendous growth in sales each year and plan to continue that momentum by way of opening a retail location in Chattanooga, TN., in January 2013.
About ASP - America's Swimming Pool Company 
ASP - America's Swimming Pool Company, the Nation's most respected swimming pool maintenance and repair franchise, was established in 2001 by Stewart Vernon of Macon, Georgia. The company was built on the belief that providing the highest-quality pool maintenance with competitive pricing and a high level of dependability will attract customers. Since 2005, ASP has expanded into 110 territories in the Southeast, servicing over 200 cities and 12 states across the country. At this point, the company manages over 80 million gallons of water per week and renovates or remodels more than 250 pools each year. For information, please visit www.ASPpoolco.com