Learn the key benefits of keeping your pool clean and properly maintained.
Don't let your pool go too long without proper care.
Weekly pool maintenance is ideal for ensuring satisfactory water chemistry, sanitation, and overall appearance of your pool. If left untreated, your pool water could grow algae blooms or become a breeding ground for mosquitoes and serious bacteria like E.Coli. Untreated pools can also cost you hundreds to thousands of dollars in equipment repair, liner replacement, and pool resurfacing.
Need help starting a weekly pool maintenance routine?
Ensure your pool stays healthy and sparkly clean with a weekly pool maintenance checklist. The swimming pool experts at ASP - America's Swimming Pool Company wanted to share their top recommendations with you.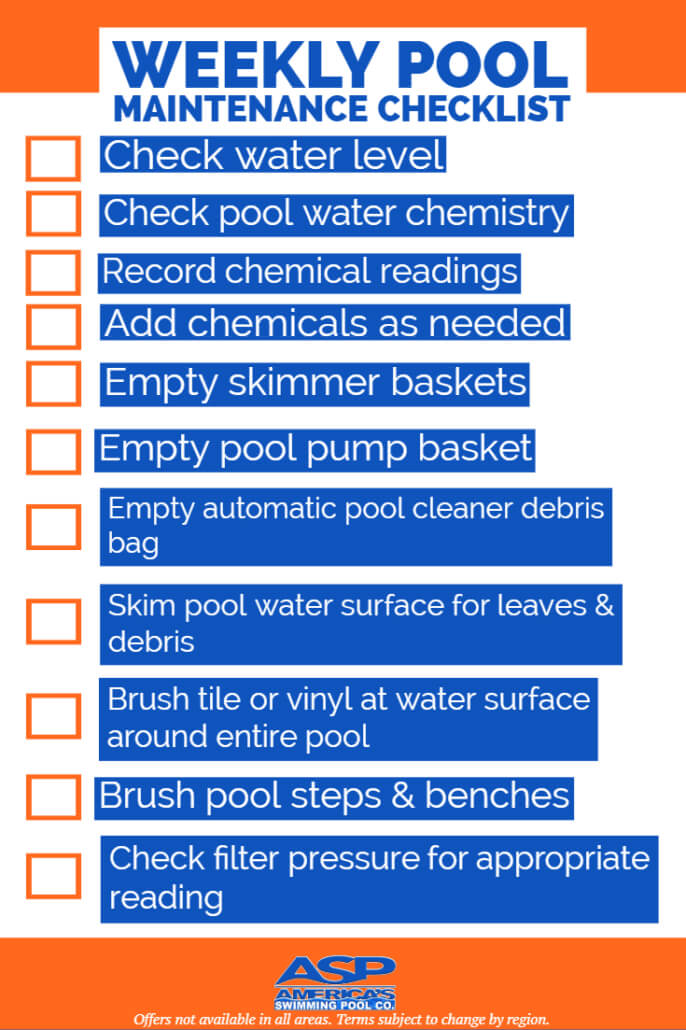 Swimming pool homeowners need to create a pool cleaning and maintenance routine, and we understand that you may not have the additional time to do it yourself. This is where a pool expert can be a huge help – saving you time and money!
Let the pool pros take control of your weekly pool maintenance checklist.
Your local ASP - America's Swimming Pool Company will be happy to develop a maintenance and cleaning plan that will specifically meet your pool needs at an affordable price. Relax more, worry less.
The ASP Difference: Our pool industry technology can give you the peace of mind you have always wanted from a service company. All activities are recorded in Pool Ops®, our digital platform, which will email the time we serviced your pool that day, your pool's chemical readings, the chemicals we added, and a picture of your clean pool.
CLICK HERE to find an ASP - America's Swimming Pool Company location near you!