My name is Herschel Forester. My primary aim in life and in business is to be a good ambassador of Jesus Christ. My great grandparents came to Dallas in the 1920s. I have a lot of great swimming pool memories. As a 10-year old boy, we were on vacation, lodging at The Salado Inn in Salado, TX. A big bumblebee decided to bear down on me so I ran for my life and jumped in the pool with clothes, shoes and socks on. It felt to me like that swimming pool saved my life.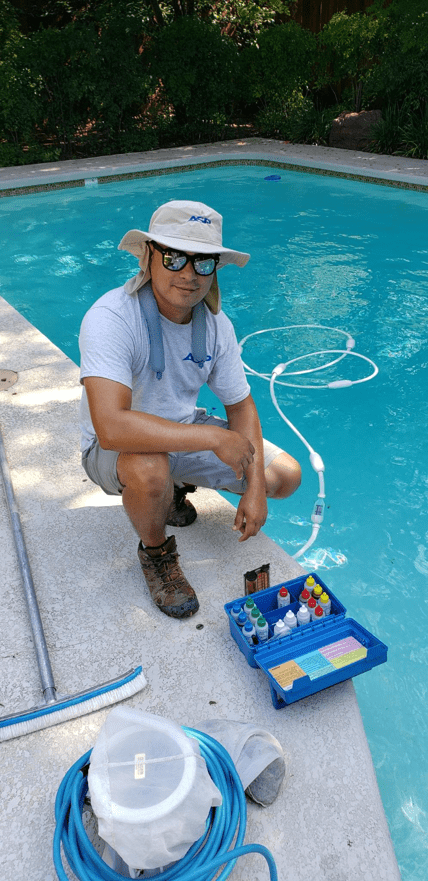 I first started in the swimming pool service business as a part time pool cleaner while attending Dallas Theological Seminary. I enjoy working outdoors. I like recreation. I like beauty. I like making something beautiful out of something that is less than beautiful. Speaking of beautiful, while in seminary I married the most beautiful woman I have ever met. The day our first child was born, I went out on my own and started Forester Pool Service, April 27, 1992.
In January of 2011, Forester Pool Service became a conversion franchisee of America's Swimming Pool Co. based in Macon, Georgia. I like the idea of being associated with a recognizable name in the pool industry. Since joining with ASP, we are no longer plateaued in revenue. We have significantly increased the quality, character, and number of people on our staff. ASP corporate still works diligently to help us provide the best quality product to our customers. Through all the changes, we remain as a pool company committed to serving our customer.
ASP Dallas is a pool company that cares about our customer. We are here to SERVE you! We want to offer you convenience, peace of mind, stress relief, quality products, safety for your family and enjoyment. PLUS a whole lot of enjoyment in your swimming pool including fun with family and friends. We hire people that you can trust when they are working in your yard. In addition to our employees, we are a company that is based in honesty and providing you with value for your money.
We look forward to serving you. For pool service in Dallas, Richardson, Gardland, Plano and beyond, give us a call at

(214) 740-3814